Kirk-NJ
Posted 05-08-2017 at 05:57:13 [URL] [DELETE] [Reply] [Email]
---
OT; Yard art you can use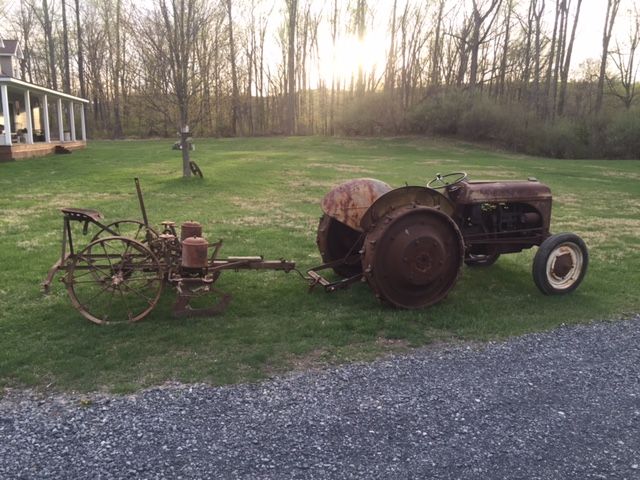 I can't believe that people leave this stuff laying around to rot. A lot of the implements I'm finding at yard sales, barn sales, moving sales and scrap yards aren't in too bad of shape and sometimes they are in reasonably good shape with some only needed a little bit of work to put back in production. Some of the old horse drawn implements can easily be converted to a tractor.
Here's one of my McCormick Deering model 102 corn planters I picked up out of a barn a couple of weeks ago. This one from the 1920's to early thirties. It only needed to be cleaned up and blade runner repair and basically it's ready to plant. It could be used For deer food plots cause you can sit somebody in the seat and drag them around with a tractor or even a quad and get some corn in the ground. I also have the same planter in a 106 model that I bought at a yard sale a couple of years ago and converted to 3pt, which is what we use to plant the deer plots in up state Pa. I like yard art as much as the next guy but I prefer my yard art to also be functional. When people comment about my 106 corn planter they are surprised when I tell them we planted 9 acres with it last year. That's not too bad for a 90 year old implement that was laying around in somebodies flower garden.
All I'm saying is don't overlook the old yard art and give it a second chance.
BTW. If you decide to pull one of the planters around you will probably have to put some kind of elbow on the exhaust cause you just about kill the guy it the seat after the first couple rows. BTDT.
Kirk
Tim Daley(MI)
Posted 05-08-2017 at 15:16:24 [URL] [DELETE] [Reply] [No Email]
---
Re: OT; Yard art you can use
Yeah, I was fortunate yesterday as well. I received a call from a customer, an elderly gentleman, who wanted me to come and look at his old tractors: A 9N, an NAA; a Ferguson TO-20; a FORD 3910 made in England, and a Wheel Horse tractor. Tucked away in his woods under a shelter was a Ferguson MKO-21 Cultivator and a Ferguson Weeder. Then, up by his barn, a TOWNER Subsoiler. The cultivator was originally 11-shanks but someone hacked off the two outer most front ones and angle iron frame. I asked he if wanted to get rid of them and he said I could have them. I gave him some cash anyway. They all have the original tags too, and the TOWNER Subsoiler tag shows made in Santa Ana California -see pic. He didn't know what it was so I explained that TOWNER was a Dearborn & FORD supplier of farm equipment catering mostly to the western and southwest regions. I said it was a good collectable piece but he said I still could have it. I can't get my weeder pictures to upload to the dreaded photobucket site; it says they uploaded but don't show up in my library. Here is the cultivator and the TOWNER Subsoiler. I had a Ferguson Weeder years ago, sold it at auction, but may just use it as a parts implement since both outside wings couldn't be located . He said they were around 'in the woods somewhere'. I can use the cultivator parts on my Dearborn and other Ferguson cultivator. BTW, someone farmerized the Subsoiler with a steel tube with a cast cup attached at the top and a welded assembly at the back. The guy told me it was used as some sort of seed planter. The old saying, "...what's one man's junk is another man's treasure...' applies.
Tim Daley(MI)