Posted 03-24-2008 at 14:01:13 [URL] [DELETE] [Reply] [Email]
---
Early 9N Tools - Update
Here's an update on the early 9N tools- The March 15, 1940 MPC lists the 39-40 9N Tractor small open end wrenches and the Spark Plug/Head Bolt Wrench as such:
B-17015- 7/16 x 1/2
B-17016- 9/16 x 5/8
01A-17017- 11/16 x 13/16 Open/Box End

Pictured below is the A-17015 & A-17016 marked tools with a B-17016 also. Then the A-17016; 01A-17016; A-17015; and 01A-17015 wrenches which are often mixed up. The 01A- prefix tools are thinner and have more pronounced pointed tips. Several members of NAFTCO (National Ford Tool Collectors) answered my request in the latest issue of Ford Tool Times for "B" versions of the small open end wrenches. Bill Barlow sent me an actual tool from his collection -thanks again, Bill, (pictured with the Globe & Hatchet logo)and Jim Koons sent me a picture of the same tool only the logo is the English Staffordshire knot for Vaughan Bros. Willenhall. NAFTCO member Brent Mueller also confirmed the A and B versions were identical in size and shape. Chances are the Globe & Hatchet logo is an English version as well. If anyone can identify this manufacturer please contact me. The two tools from my collection marked with the part numbers A-17015 & A-17016 both have the McKaig-Hatch (MH) logo and were both bought from Canadien sellers- not that means anything, McKaig-Hatch was a US Company. I have a few A versions from MOORE too. All other A versions of the tools in my collection have the lone M logo for MANZEL, another major Ford tool supplier based in New York and Cleveland. The 01A versions in my collection contain both MOORE and MANZEL. I have other 01A's from English manufacturers with both part number and mfg. mark as well as ENFO and the FORD script. Finally, the last photo shows what an early 9N tool kit possibly looked like. The tool bag is an original also.
A-17015; A-17016; and B-17016 Ford Wrenches Front View-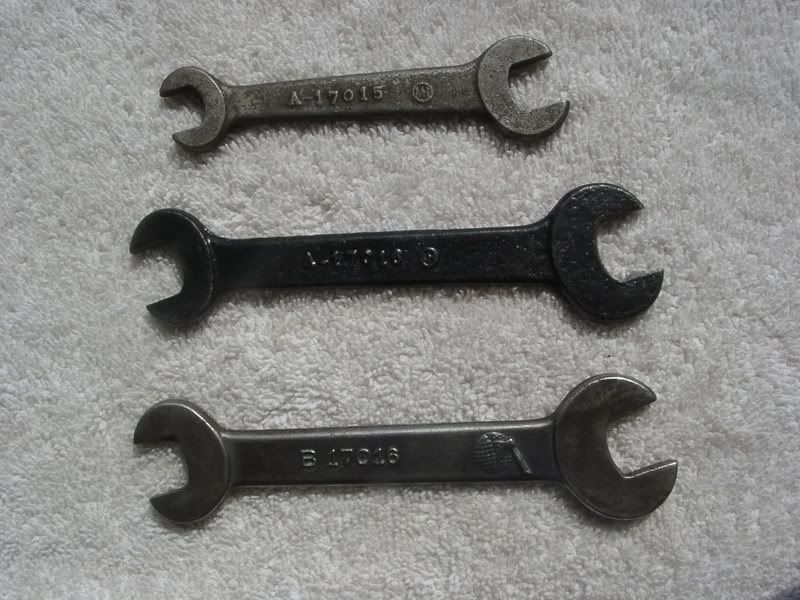 Same tools- Rear View-

A-17016; 01A-17016 & A-17015; 01A-17015 tools as shown in that order-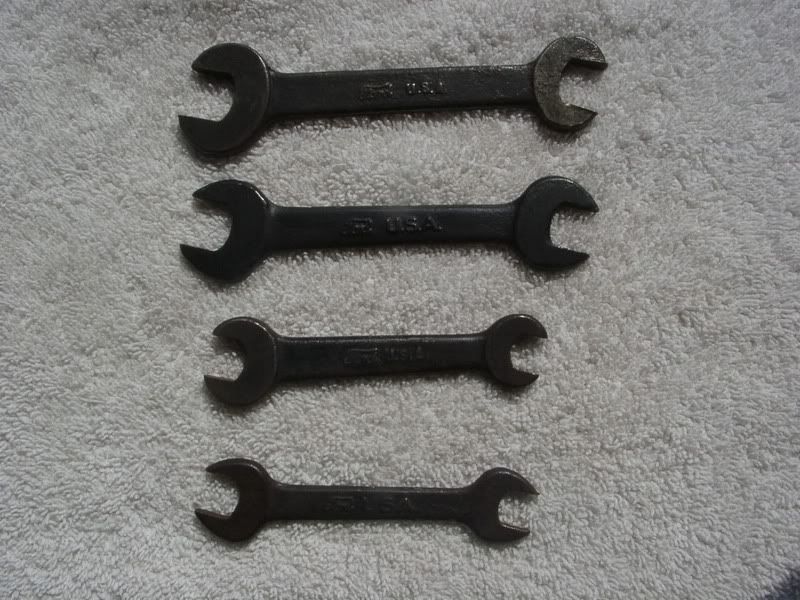 39-40 9N Ford Tractor (probable) Toolkit-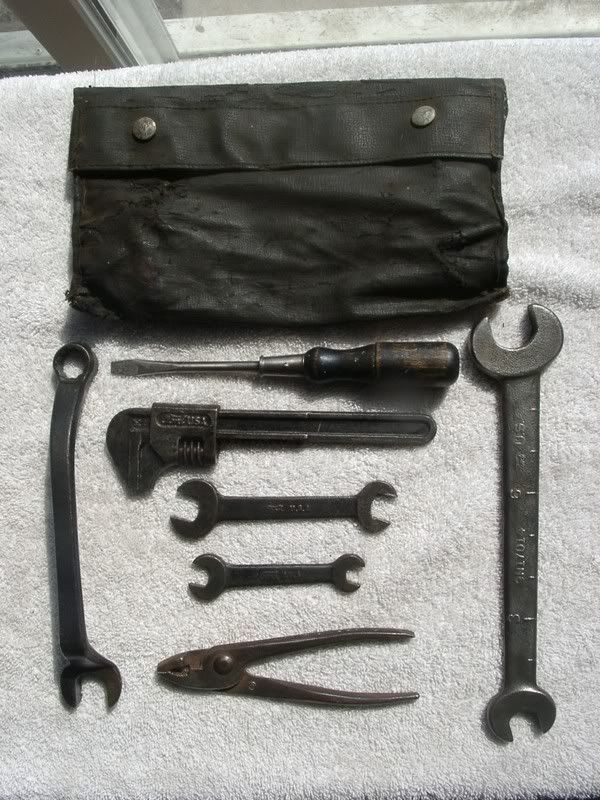 Tim Daley(MI)