Re: snowplow ?
[ Follow Ups ] [ Post Followup ] [ N Board Forum ] [ FAQ ]
---
Posted by Ultradog MN on August 10, 2019 at 04:26:28 [URL] [DELETE] :

In Reply to: snowplow ? posted by Keith Calhoun on August 09, 2019 at 14:55:07:

Technically, the correct snow plow for a 600, 801, 2000 Prior would not be a Dearborn. It would be a Ford implement. However, you might find a cable lift Dearborn model that was made for a Jubilee that would fit as a Jube and 2000 are the same size.
The one for the later tractors would be hydraulic lift.
Look in the manuals section here for a manual for one. Note that the frame does not extend back to the rear axles but attaches under the transmission.
Thanks to Ed Gooding for these photos.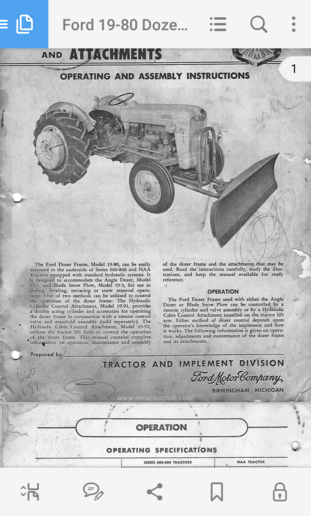 ---
Post a Followup:
---
[ Follow Ups ] [ Post Followup ] [ N Board Forum ] [ FAQ ]