Posted 02-10-2007 at 12:56:39 [URL] [DELETE] [Reply] [Email]
---
FERGUSON A-LO-19 & DEARBORN 22-1 CORDWOOD SAWS-SUPPLEMENT
HIYA GANG-
Going through my manuals I came across a Ferguson A-LO-19 Cordwood Saw A/O Manual, November 1946, slightly different than the one Ed has posted, and tucked in the back were additional dealer temporary service parts references; a cross reference page; and price lists.
First, a bit of history from the Peterson & Beemer book, "FORD TRACTOR IMPLEMENTS":
"...Dellinger Manufacturing Company, Lancaster, Pennsylvania, manufactured the cordwood saw for Ferguson probably as early as 1940 for the 9N Tractor. Ferguson was already handling another cordwood saw made by the Turner Manufacturing Company, Statesville, North Carolina. Ferguson eventually chose Dellinger as its' primary supplier. From 1942 through 1946, Ferguson purchased 25,000 cordwood saws from Dellinger before the general cutback in the last half of 1946 (arond the time of the split). Delivery of saws to Dearborn began in the fall of 1947 at a rate of of 750 per month. It is accepted that Dellinger supplied both Fergsuon and Dearborn with saws that were identical except for the color and nameplate. The ARPS Corporation also made a cordwood saw, but it never did well..." Dellinger outsourced many of the components but assembled the saws in their facility. Also, remember that saws were a seasonal and regional item so sales numbers were not even close to other implements like plows or disc harrows, hence the low volumes produced.
Anyone who has one, both, or the other know that there are some differences in design and parts. We also know that there were several other manufacturers like Sears, Monkey Wards, and other makes by small companies jumping on the wagon of the successful Ford tractor.
The pictures of the additional pages in my manual are shown below. There is a Ferguson/Dearborn Cross Reference page that is interesting because it shows old (A-LO) numbers and new (DMC) numbers. What is basically a confirmation that Dellinger made saws for both is that the list shows the DMC number and the serial numbers of production and the VENDOR'S number for that part. You can easily go to the A-LO manual parts list, page 3 and 4, and verify that the FACTORY number there and the VENDOR"S number on the DMC page are identical. Therefore we can conclude that the Dellinger Company made saws for both Ferguson and Dearborn.

FERGUSON CORDWOOD SAW MODEL A-LO-19 NOVEMBER 1946 -COVER

FERGUSON CORDWOOD SAW MODEL A-LO-19 -PAGE2

FERGUSON CORDWOOD SAW MODEL A-LO-19 -PAGE 3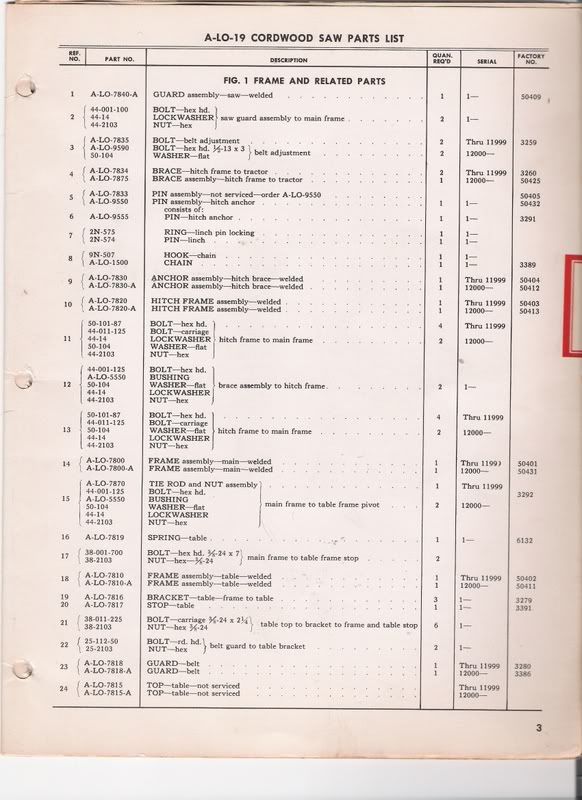 FERGUSON CORDWOOD SAW MODEL A-LO-19 -PAGE 4

DMC OCTOBER 27, 1947 TEMPORARY SERVICE PARTS PRICE LIST -PAGE 1

DMC OCTOBER 27, 1947 TEMPORARY SERVICE PARTS PRICE LIST -PAGE 2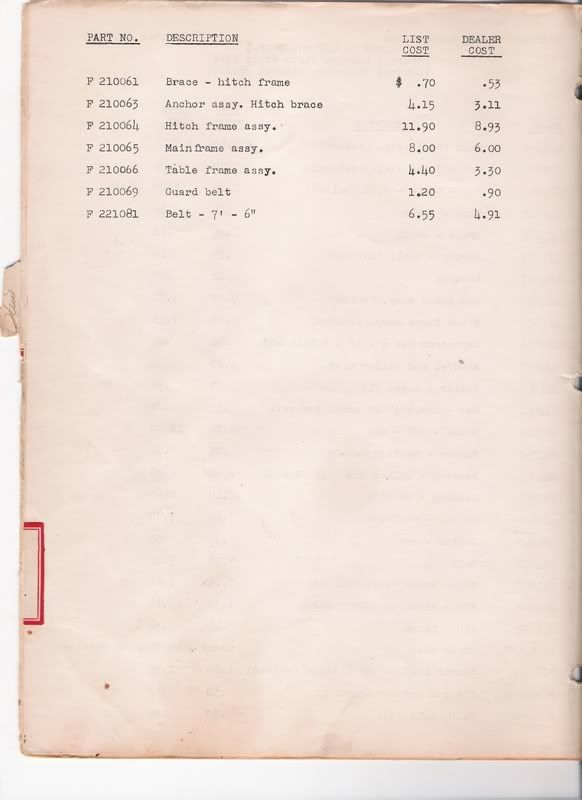 DMC OCTOBER 29, 1947 TEMPORARY SERVICE PARTS & VENDOR'S P/N -PAGE1

DMC OCTOBER 29, 1947 TEMPORARY SERVICE PARTS & VENDOR'S P/N -PAGE 2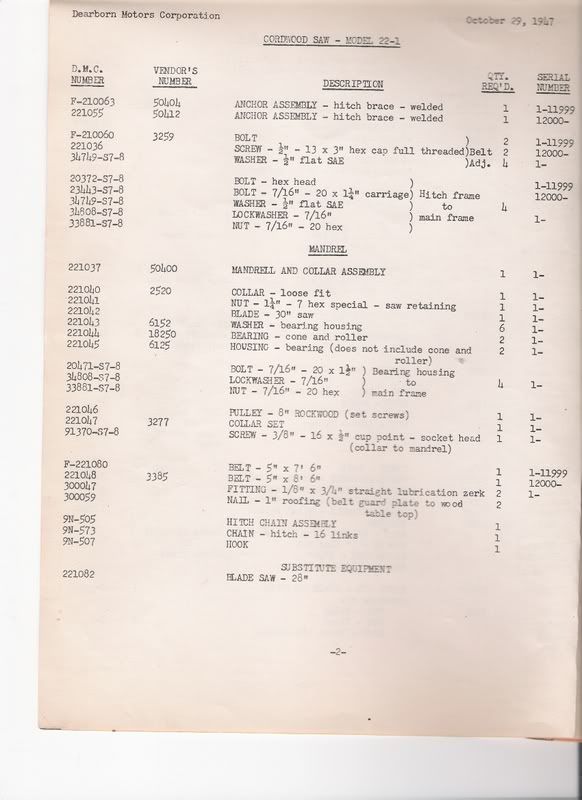 DMC MODEL 22-1 CORDWOOD SAW SEPTEMBER 15, 1948 TEMPORARY SERVICE PARTS PRICE LIST -PAGE 1

DMC MODEL 22-1 CORDWOOD SAW SEPTEMEBR 15, 1948 TEMPORARY SERVICE PARTS PRICE LIST -PAGE 2

DEARBORN 22-1 & FERGUSON A-LO-19 CORDWOOD SAWS CROSS-REFERENCE PARTS LIST, MAY 4, 1948


Tim Daley(MI)