Tim Daley(MI)
Posted 04-13-2008 at 09:08:41 [URL] [DELETE] [Reply] [Email]
---
DEARBORN SNOW REMOVAL EQUIPMENT
I don't know if this is out of season yet because it is snowing here today, April 12, 2008, in Michigan's Thumb region, but here is a 2-page dealer flyer on Dearborn Snow Removal Equipment, inbcludes 19-55 Universal Frame; 19-3 Blade Snow Plow; 19-70, 19-71, & 19-45 Industrial Loader w/Bucket; 19-5 Utility Blade; 19-2 Angle Dozer. FORM AD-5926 1253-50 Ford Tractor Division.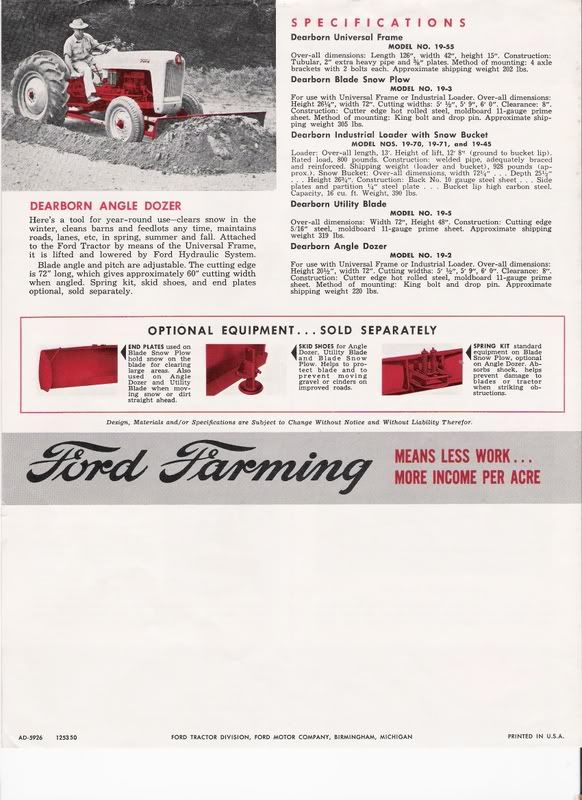 Tim Daley(MI)
Paladin (Bob IN PA)
Posted 04-15-2008 at 08:50:59 [URL] [DELETE] [Reply] [Email]
---
Re: DEARBORN SNOW REMOVAL EQUIPMENT
Tim: Thanks much for posting this info.
Looks like I have a "DARPS" snow plow. The guy that I bought it from did say that he bought two junkyard snow plows and combined them. I have finally figured out that I have a Dearborn frame with an ARPS blade on it. It's a perfectly good rig as the guy was an expert welder. I need to paint the plow over the summer so either then or when I mount it up next fall I'll post some pics.
I never got it mounted this winter. No excuses - just didn't get to it. My Kubota with back blade took care of the snow, which wasn't much around here. Way less than usual. Lots of freezing rain and ice storms. Still cleaning up downed limbs.
Bob