Tim Daley(MI)
Posted 07-04-2011 at 07:48:08 [URL] [DELETE] [Reply] [No Email]
---
Plowing Instructions For The DEARBORN Plows
The N-Series Tractors were designed to pull a two-bottom plow, which was one of their primary jobs. It wasn't until the Hundred Series that a three bottom plow was introduced by Ford. However, some claim, the 8N will pull a three-bottom plow, but many will agree only if the soil conditions are loose sand! Contained here are the actual plowing instruction chapters exclusively for the Dearborn Plows, from 8N Operator Manuals. The Dearborn Moldboard Plow, or often called the Prior Model, was introduced in 1947 with the release of the 8N Tractor, and was produced from 1947 until 1950 when the Dearborn Economy Model plow was introduced, which had many design improvements. Please note that though similar in most design features, the Dearborn Moldboard Plow and the earlier Ferguson-Sherman Plow share some identical parts, but the most important feature, the cross shaft, is different on both plows. The Ferguson-Sherman Plow used an offset cross shaft, sort of like a crank shaft, whereas the Dearborn Moldboard Plow used a straight cross shaft bar. Adjustment for the Ferguson-Sherman Plow is available in the "Plow Manual" listed elsewhere in our library. The setups are different, but the part on how to plow a field is good for any plow. In 1950, Ford/Dearborn engineers realized the flaws in the Prior Model Plow and completely redesigned the plow. One major flaw was the cam-lock device that was to keep the setting of the cross shaft locked in would fail under load, thus causing the cross shaft to turn in the field and one losing his settings. Ford/Dearborn then introduced the world to the Economy Plow, produced from 1950 on through the end of Dearborn then in 1955, the Ford Tractor Division, production runs.
The Dearborn Moldboard (Prior Model) Plow came in three major Model numbers -Model 10-10 was a 10" two-bottom plow, Model 10-8 was a 12" two-bottom plow, Model 10-1 was a 14" two-bottom plow, and a 16" single bottom plow, of which I have no model number. The 10" plow was not introduced until 1949, and only prodused for one year, and had Scoth bottoms. Therefore this first section on plowing instructions is taken from the first 8N Operator's Manual, dated July 7, 1947, and does not have setting figures for the 10" model.
The best advice I can offer for learning to plow is read these directions first and do your best playing around experimenting to get the 'feel' of how it reacts. Once you get going and decide to plow the back forty, place the tractor in 2nd gear, keep the throttle set at around the 7/8 mark, and look in front of you. If you try to watch behind at what you are doing, you are going to make crooked furrows! Pick out a landmark further away and aim for it. This will keep your first furrow nice and straight. Subsequent furrows will follow your first one if you keep your eyes straight ahead and stay inside the furrow wall with your right front tire. Have fun and above all, BE SAFE!
Tim 'PloughNman' Daley(MI)
Tim Daley(MI)
Posted 07-04-2011 at 08:35:30 [URL] [DELETE] [Reply] [No Email]
---
Plowing Instructions For The DEARBORN MOLDBOARD PLOW
The Dearborn Moldboard [Prior Model] Plow, produced from 1947-1950: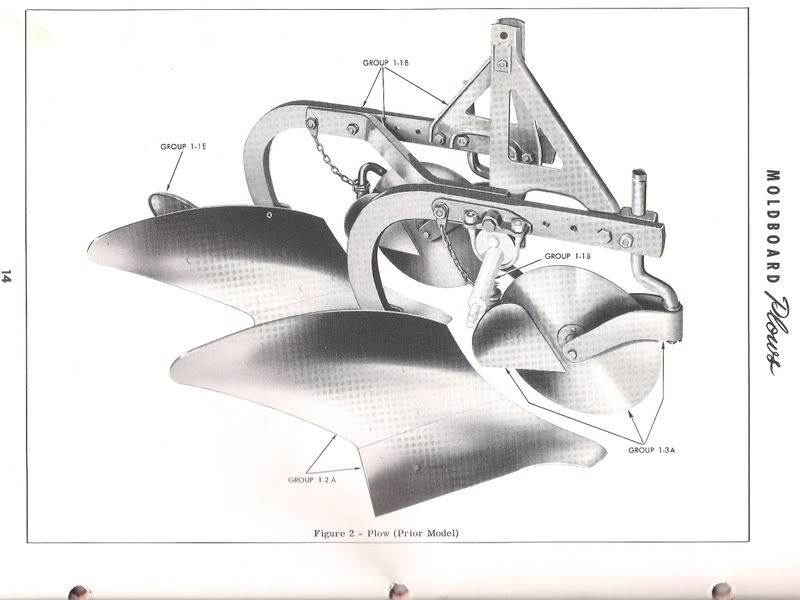 See the Master Parts Catalog elsewhere in our library for details on parts. Bear in mind that none of these parts are no longer produced so locating shares, moldboards, and other wear parts is extremely difficult. A good blacksmith can probably reproduce these if you have an original he can go by. Check your local Amish community or attend an old time farm show and you will likely find a good blacksmith. Their prices may be in the range of just buying another used plow though.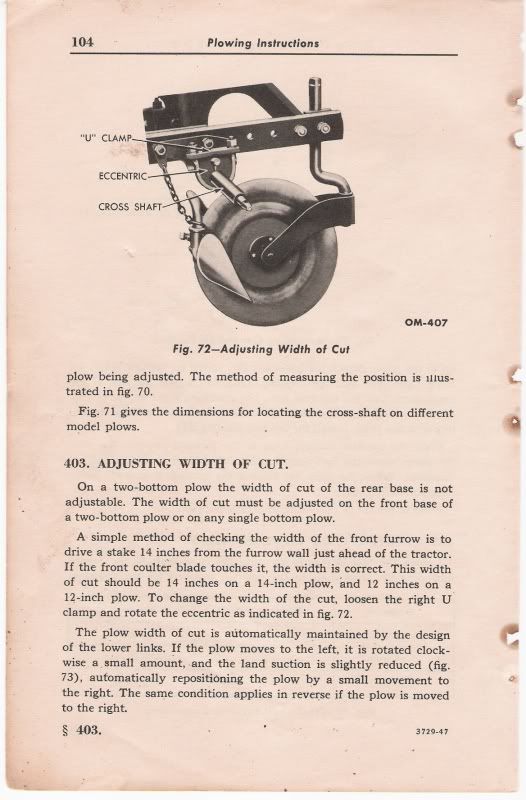 Enjoy, and BE SAFE!