Tim Daley(MI)
Posted 01-15-2010 at 13:28:36 [URL] [DELETE] [Reply] [Email]
---
The Moto-Tug Story
As I pursued the topic on the Ford-Ferguson Moto-Tug, I discovered a book recently published ( September 2009 ) by a gentleman named Timothy J. O'Callaghan, who being a U.S. Army veteran,also spent 40 years working for Ford Motor Company in management until he retired in 1990. In 1980 he became interested in Ford aviation and shortly after retiring from Ford, volunteerd at the Benson Ford Research Center, of The Henry Ford, in Dearborn, Michigan. He was asked to bring some order to the collection of aviation photographs and documents that were virtually setting in boxes,unorganized, for years. With plenty of time, he was thrilled to be asigned the project and soley put all their documents and photos on WWI and WWII in order. The reward for his efforts are two books ( so far ) and a DVD on the Ford Motor Company's involvement with war production military vehicles, aircraft, and numerous other projects. .
I looked up Mr. O'Callaghan since he lives only about 75 miles southwest of me and we talked extensively on a few occasions about Ford, WWII, and, specifically, the Moto-Tug. He was kind enough to send me copies of the original Ford documents on the Moto-Tug he had for part of his reaerch for his latest book, "FORD In The Service Of America". He gratiously granted me permission to reprint them as long as I did not use the actual original documents and also to be sure to credit the Benson Ford Research Center, which I have credited for the information. Here is a scan of his current books' cover. What follows are the original Moto-Tug story, the Timeline, and two stories from a business magazine. These are the only documents he found dealing with the Moto-Tug development and production.
Mr. O'Callaghan has another book, "The Aviation Legacy of Henry & Edsel Ford, for $15.00 plus $3.00 S&H as well as his current book for $35.00 plus $3.00 S&H. He will personlly sign the book(s) and his mailing address is:
T & D Associates
c/o Tim O'Callaghan
PO Box 512
Northville, MI 48167
He also has a web site, www.fordatwar.com
If you are interested in the Ford Moto-Tug and/or the many, many pots Ford had their hands in for war production items, pick up these books. "Ford In The Service Of America" comes in at 198 pages and that includes the index, but there is a ton of information packed into this little gem. The Moto-Tug 'chapter' is only three paragraphs and one photo of a B-24 being towed by a Tug, but based on the little information he had to work with, you couldn't expect much more. Meanwhile, I hope you enjoy reading these documents as much as I did.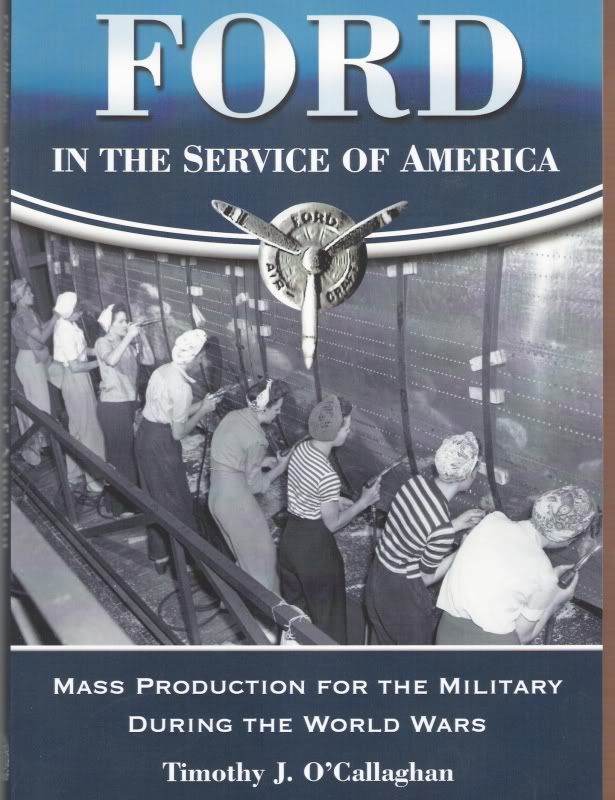 Tim Daley(MI)
Tim Daley(MI)
Posted 01-15-2010 at 14:12:01 [URL] [DELETE] [Reply] [No Email]
---
The Moto-Tug Story -Supplement -TimeTable
This is the supplement to The Moto-Tug Story showing the timline from the cradle to Columbus. Robert Johnston II aka 'Paladin' here, says the four models were the BNO-25 and the BNO-40, as stated in the article, and also the BNOS-25 and the BNOS-40. The 'S' models had solid cast iron wheels and hard rubber tires.

Also, it is important to remember that Ford Motor Company shut down all civilian car and truck production on February 10, 1941, to devote the lines to produce war implements.
Paladin (Bob In PA)
Posted 01-15-2010 at 21:51:22 [URL] [DELETE] [Reply] [Email]
---
Re: The Moto-Tug Story -Supplement -TimeTable
Tim:
Yes, there were four models, the BNO-24 and the BNO-40, and also the BNOS-25 and BNOS-40.
The parts manuals have all four models covered. Actually, the "S" variants seem to have differed only in that they had solid cast iron wheels with hard rubber tires.
The ONLY, repeat ONLY surviving "S" variant that I know of is owned by an N tractor collector in Las Vegas. He emailed me perhaps a year ago that he had bought this tractor in CA and that it supposedly had spent its life working in a shipyard or dockyard in Long Beach. Sadly, the cast iron wheels are long gone and it has been fitted with regular tractor wheels.