Tim Daley(MI)
Posted 05-16-2019 at 17:43:47 [URL] [DELETE] [Reply] [No Email]
---
MEMORIAL -POST HUMOUSLY
We just found out another great one passed away. Dave Schafer of Flat Rock, Michigan passed away on November 26, 2018. Dave, like many other old timers, did not own a computer and had no interest in the Internet thus was not active in the NTC. He was an avid Ford Tractor enthusiast and owner and a close link to Henry Ford. Dave's father worked for Henry Ford on his farm in Dearborn. He saw firsthand the marvelous invention of the 9N Tractor as it was produced. Dave was born in 1939 and that day Henry Ford gave Dave's father a brand new 9N tractor, serial number 179. Dave's father is also pictured in many of the 9N brochures demonstrating implements like plows and cultivators. The tractor was special to Dave, had remained in the family, and when he got older restored it to original. It unfortunately had lost its original aluminum hood over the years so it was replaced with a steel one. Dave and wife Pat often attended shows and the Mackinac Bridge crossing each Labor Day. Dave in later years found a late production 9N locally and bought it and restored it as well. He owned bragging rights to an early production 9N and a late production 9N. There is full story in an issue of Ford/Fordson Journal. We have a story about Dave and the Ford Flat Rock Lamp Factory archived here. Rest In Peace Dave, it was an honor to have known you.
DAVE & PAT SCHAFER WITH THEIR RESTORED 9N-179, A GIFT FROM HENRY FORD TO HIS FATHER: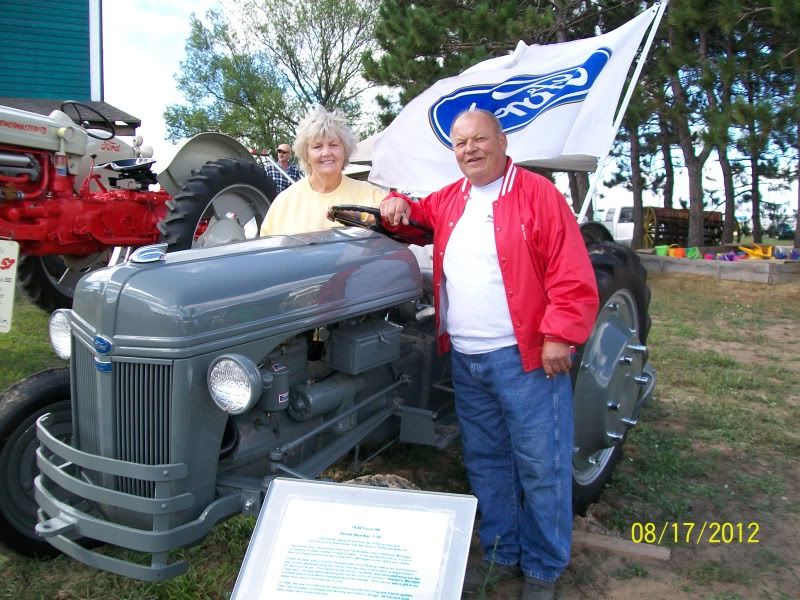 Tim Daley(MI)

John in Mich
Posted 05-17-2019 at 17:03:14 [URL] [DELETE] [Reply] [No Email]
---
Re: MEMORIAL -POST HUMOUSLY
Thanks for posting this, Tim. I was a long time member of SMATEA and new Dave and Pat well. I played in some of the early baseball games. Later I was home plate umpire and PA announcer.
Dave put heart and soul into the week-end series every year. Safety was always a primary concern.
There was one time a flyball hit Dave's tractor hood. There was quite a stir anong the crowd. Dave looked at it and shrugged. No dent. Good steel.
Tim Daley(MI)
Posted 05-17-2019 at 17:39:01 [URL] [DELETE] [Reply] [No Email]
---
Re: MEMORIAL -POST HUMOUSLY
Dave was a great person. I had first met him in 2003 at the 'Pageant of Power' tractor show at Greenfield Village commemorating the 100th anniversary of Ford Motor Company. It was tractors only, no cars. That is the year I also joined SMATEA and attended almost every show since. I have not been a member for a few years now and been to any shows. I would always spend time with Dave and Pat at their site talking tractors and life in general. In 2012 I took some notes and then wrote an article about him in the fall issue of the F/FCA Journal. Good times.
Tim Daley(MI)